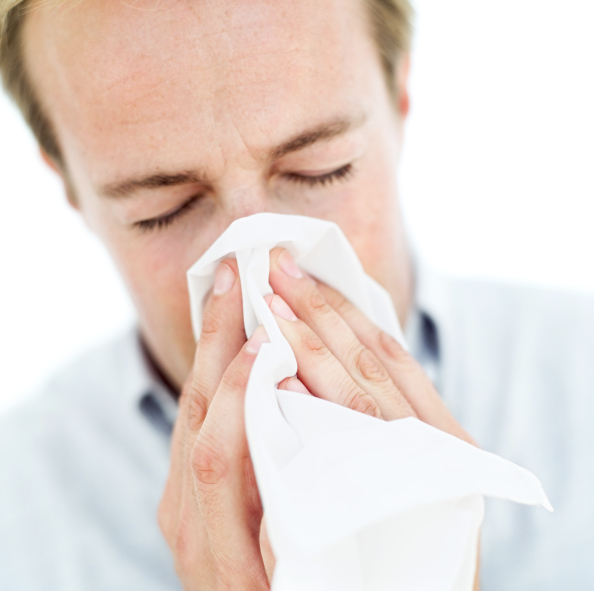 Are you suffering from allergy symptoms like runny nose, sneezing, itchy eyes, or maybe even flu-like symptoms? This is a sign that you have a hypersensitive immune system. Your body is reacting to things in the environment that are natural and should not cause your body to respond, yet you're having a reaction. In order for any treatment to be effective in the long term, you must reduce your body's overall sensitivity to your environment. If you're looking to permanently cure your allergies or just get some relief today, homeopathy is a natural and effective way to address your symptoms as well as the underlying reasons why you have allergies.
---
Natural Treatment vs. Conventional Medicines
According to the National Center For Health Statistics (NCHS), hay fever is one of the most common chronic illnesses in the United States, affecting over 24.2 million adults and children in the past year alone[1]. Many people seek out one of two types of conventional allergy treatments: drugs such as Claritin, Allegra, Zyrtec, Sudafed, Benadryl, etc. which simply mask the symptoms but do nothing to change the underlying sensitivity or the more invasive immunological treatment using allergy shots. In conventional immunological treatment, doctors take a very small dose of the allergen and introduce it into the body over a period of time to build up the resistance.  This can work for some people to reduce their symptoms, but it is a very time consuming, expensive, and limited type of treatment.
Alternatively, homeopathic treatment is effective in treating allergies because it reduces sensitivity while improving overall health. To a homeopath, the presence of allergic symptoms means the immune system is in overdrive and unbalanced. This imbalance in the body is what homeopathic treatment seeks to improve. Once the sensitivity is reduced and the body is balanced there is no need for the allergy symptoms to remain, and, gradually, you become free from them altogether.
Is It A Cold or Allergies?
The first step in treating your allergies is to determine whether what you have is a simple cold or an allergic reaction. This is sometimes not so easy, so I have put together the following table to help you decide.
| | | |
| --- | --- | --- |
| Symptoms | Cold | Allergies |
| Cough | Common | Sometimes |
| General Aches/Pains | Sometimes | Never |
| Fatigue/Weakness | Sometimes | Sometimes |
| Itchy/Watery Eyes | Rare or Never | Common |
| Conjunctivitis | Rare or Never | Common |
| Sneezing | Common | Common |
| Runny Nose | Common | Common |
| Stuffy Nose | Common | Common |
| Sore Throat | Common | Sometimes |
| Fever | Rare or Never | Rare or Never |
Basically, an allergy is a specific reaction from the body's immune system to a normally harmless substance, whereas the symptoms of a cold are the body's response to a viral contagion.
For a non-allergic person, the mucus in the nasal passages moves foreign substances (pollen, dust mites, etc.) to the throat which are then coughed out or swallowed. However, for the sensitive person, the body responds more dramatically causing nasal congestion, sneezing, itching, irritation and excessive mucus production. You may be confused about whether these symptoms are allergic responses or just a cold because they can be very similar. The table below may help you to differentiate them:
Cold Symptoms
Duration – 3 days to 2 weeks
Complications – sinus infection, middle ear infection, asthma
Allergic Responses
Duration – Weeks (6 weeks for ragweed or grass pollen seasons)
Complications – Sinus infection, asthma
"Allergic shiners" (dark circles under the eyes caused by increased blood flow near the sinuses)
"Allergic salute" (in a child: persistent upward rubbing of the nose that causes a crease mark on the nose)
How can I reduce my exposure?
Here are some things you can do to bring down your allergic response temporarily.
Stay indoors and keep the windows closed in the morning when pollen counts are highest

Note: sunny, windy days can be the worst days to be out

Wear a mask if you work outdoors: one that is designed to filter pollen out of the air
Use an air purifier in your home to help clear room air of allergens
Vacation at the peak of pollination season and avoid locations with high pollen counts
---
[1] Centers for Disease Control And Prevention, 2014, Allergies and Hay Fever, http://www.cdc.gov/nchs/fastats/allergies.htm